Omid 16B & Alex George – SeVen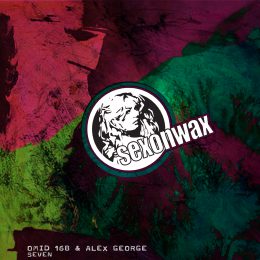 'SeVen' has a rather interesting story behind it, with Omid constantly in the studio finding a more direct approach in letting the creative juices flow, forging modular templates adding on the fly ideas and endless possibilities with rhythm and melody combinations all created with his own matrix system!
Alex George being long time studio advisor and partner in crime gets involved mid way, just when Omid was close to going completely insane with his creation Alex stepped in and knew exactly where one must draw the line… 'This could have turned into one of those tracks that sounds great but never felt completely finished' says Omid 16B "Asking Alex to step in and give his technical opinion was almost like asking the Doctor for a lolly pop after a nasty injection whilst the doctor lights up a fat cigar" Omid adds "Alex is not only one of my best mates and true souls, he is honest, ruthless and right on the money, I can rely on him to tell me what's really going on specially after those weeks of self indulgence lost in my own bubble".
If two people get together for what ever reason they both need to add something to combine their artform to bring out the best in what they do, in this case it's an example of friendship and honestly and compassion for one another, things payoff only when ones not concerned about 'who did what' and more in tune with 'this is how we do it'!