News: 16B to release his new album titled "Silenciety" in July 2019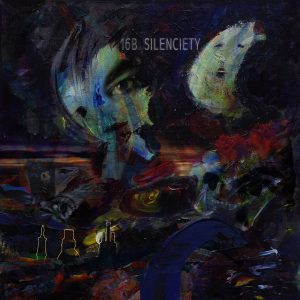 It's been over 20 years since Omid Nourizadeh, aka 16B, first exploded on to the electronic music scene with his acclaimed debut album 'Sounds From Another Room' on Sven Vath's eye Q /Alola Records. Since then, he has carved out an illustrious career remaining constantly at the forefront of cutting edge dance music, achieving a stellar portfolio of releases including 'How To Live 100 Years' (2002) and the two-part 'Like 3 Ears & 1 Eye' (2007) albums. For summer 2019, Omid reveals his highly anticipated 4th artist album, 'Silenciety', ablaze with thirteen powerful and musically diverse compositions, which Omid describes as "emotionally venerable and musically dramatic". From cinematic heart-wrenching classical tones, sensitive and drama-filled electronica, to intense outbursts of rousing electro,indie and techno, 'Silenciety' is a magical trip that flows between genres and emotions, testament to the unrivalled creativity and depth of this ever forward-thinking artist.
'Silenciety' demonstrates a world of tension and harmony, pairing opposites that slowly melt away to leave a more complete, less unilateral experience; both positive and the negative side by side complementing one another. "There's not one track that sounds similar to another, yet they're all connected and nothing feels out of place. I felt there was no point making a fashionable album, as I'm more interested in a timeless body of work, something that doesn't sound like anything else, something you rarely get to hear".- 16B
'Silenciety' Album will be released on July 1st 2019 on aLOLa Records. The album will also be released as a 2 pack vinyl edition.
For more information on 'Silenciety' and how to pre order subscribe  – http://bit.ly/silenciety
https://omid16b.com
https://www.facebook.com/omid16b
https://soundcloud.com/sexonwax
http://alola.co.uk/
https://www.instagram.com/o16b/