Omid 16B – Nu1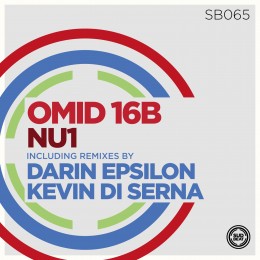 Omid 16B is one of those names that seems to have been on the cutting edge of cool house and techno for as long as you can remember, and thats because he is a consistent provider of the finest music and is loved by the Worlds biggest DJs, Omid 16B is the epitome of coolness.
His debut on Sudbeat sees Omid 16B introduce the cross numeric title "Nu1 taking you on an underground voyage, with railroad like horns sweeping across the intro before the hypnotic bassline creeps in, adding drive and energy, complimented by clever fx and delays to create tension and atmosphere.
This sublime yet subtle gem seems to pack above its weight, as its mysteriousness locks you in to its mystifying vibe, before its tale explodes into layers of what one would describe as a 'melodic masterpiece' whilst still being restrained and most certainly raising a smile on the dance floor.
Darin Epsilon is a perfect choice for remix duties here, with his rich vein running in respect to the original, adding warm and carefully programmed sounds to add a variation but holding the vibe beautifully here, as warm subby bass meets the gorgeous melodies to create an end of night moment to leave your dance floor beaming with delight.
And if that wasnt enough for you, Kevin Di Serna who has previously appeared on Omid 16Bs Alola and the mighty Sudbeat was chosen by Omid & Hernan personally as the the obvious choice to fulfil this package.
His tasty rework cuts things rights back, chills the vibe, and creates a fantastic escape for the mind and feet.
A superbly musically balanced package, impossible to over look this gem!