aLOLa Podcast 08_Omid 16B & Martin Kazez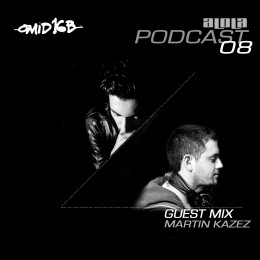 Welcome back to our two hour aLOLa Podcast, starting the first hour with a nostalgic 1 hour mix from 2005 where Omid 16B and Mr C combine their forces for the first instalment of the DJ Mag FaceOff series, all tracks where played from vinyl and some of the cuts even till this day are only available on vinyl.
A collection of quality records from artists with a soul motive, merging both Omid 16B and Richard West as Dj's with a crossover vibe not dismissing any genre yet collectively creating a unique impression.
This was mixed live at Omid's studio in London using two 1210's, adding a Cycloops for looping, exactly around the time when the two were together more than usual, Dj'ing together at numerous parties in London and Ibiza.
On the second hour Omid 16B welcomes label artist and one of Argentina's hardest working DJ/Producers Martin Kazez, adding his spiritual and musical flavours for the aLOLa guest mix, blending tracks with a deeper minimalistic approach yet never loosing site from melodies and harmony, including his forthcoming debut release on SexOnWax titled "INDIO".
Tracklist
Part 1: Omid 16B
1. François Kevorkian – Enlightenment (16B Remix) [Wave music]
2. John Dahlbäck – Sugar (All You Need) [RZ US]
3. Zoo Brazil – Walk Right Back [Get Physical]
4. James Warren & Arnaud Le Texier – Raggapoon [White Label Promo]
5. Army Of One – Martian Keg Party [Exun]
6. DJ T.– Radiator [Get Physical]
7. Nathan Fake – Dinamo [Traum Schallplatten]
8. Dirt Crew – 808 Lazerbeam [MoodMusic]
9. H-Man– Manga [Giant Wheel]
10. St. Plomb – A Bat In My Shoe [Mental Groove]
11. Simon Baker & Alex Grzybowski – Liptrick [2020 Vision]
12. Mr. C & 16B – That Look [SexOnWax]
13. Levon Vincent– The Thrill Of Love (Levon's BB Remix) [More Music NY]
14. Sycophant Slags – Cklanger [SuperFreq Records]
Part 2: Martin Kazez
01. Donatello feat. Kastis Torrau – Amber (Ben Summers Remix) [Stripped]
02. Mano Le Tough – Mountains (Original Mix) [Permanent Vacations]
03. Mathew Jonson – Dayz (Original Mix) [Crosstown Rebels]
04. Matthew Dekay & Lee Burridge – Out of Order (Original mix) [Cecille]
05. Lee Van Dowski feat. Dean Demanuele – Moonlight Hotel (Original mix) [Leena Music]
06. Audiofly & Uner – No More Philosophy (Original Mix) [Souvenir Music]
07. Ame feat. Vulkano – Den Ratta (Original Mix) [Innervisions]
08. Adriatique – Glyfada (Original Mix) [Diynamic]
09. Martin Kazez – Indio (Original Mix) [SexOnWax]
10. Oona Dahi – In the Clouds (Original Mix) [Stripped]
11. Martin Kazez – Pigs (Original Mix) [Promo]
Check Out Previous aLOLa Podcasts:
alola.co.uk/category/alola-podcast/
Artist info:
Omid 16B: alola.co.uk/2013/03/omid16b/
Martin Kazez: alola.co.uk/2013/03/martin-kazez/