aLOLa Podcast 07_Omid 16B & Anton Fielding (Echomen)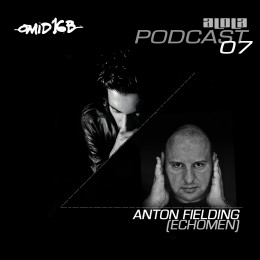 Omid 16B, known for his innovative and timeless creations, will host the two hour aLOLa radio show, presenting inspired tracks from around the globe including new and unreleased material from the aLOLa camp.
We start the first hour with Omid 16B taking you on a deep and dark musical journey touching boundaries of multiply genres, creating moments of imagination with emotion yet putting you in a hypnotic state throughout the mix.
On the second hour Omid 16B brings Echomen's Anton Fielding as his guest mix, mixing it up with a blend of variety, showcasing their interpretation of House musics finest cuts of current, including new material by themselves set for release on aLOLa very soon.
Tracklist
Omid 16B _ Part 1
1. Olafur Arnalds – Only The Winds (Ryan Davis' From Far Away Variation) – (Omid 16B Edit) – Anjuna Deep
2. Valer Den Bit – Astral (Original Mix) – aLOLa PROMO
3. 16 Million Dollar Man – Paradise (Original Mix) – Disclosure UK PROMO
4. Stefan Obermaier – Monsoon (Original Mix) – Drift recordings
5. Omid 16B – Nu1 (Original Mix) – Sudbeat PROMO
6. Oz-E – Bad Dream (Ozgur Uzar Remix) – Ausara
7. Omid 16B – The Rush (Original Mix) – sexOnWax PROMO
8. Julian Rodriguez & John Cosani – Locked Groove (Arnas D Remix) – SexOnWax PROMO
9. Omid 16B – Kicking It Off (Original Mix) – Tulipa Recordings PROMO
Anton Fielding (Echomen)_ Part 2
1. Echomen – Arora Soul (Original Mix) – Alola Records
2. Kevin Knapp – Bob Dewit (Original Mix) – Off Recordings
3. Thodoris Triantafillou, Cj Jeff & Dario D'Attis – Verona (Dario D'Attis Dubstrip Mix) – Lapsus Music
4. Dj Diass & Saccao – Drones In The Air (Original Mix) – SexOnWax Recording
5. Green Velvet & Jay Lumen – Its All About Me (Original Mix) – [Relief Records]
6. Vanilla Ace – What You Need (Original Mix)- Incorrect Music
7. Inxec – Remember (Original Mix) – Extravaganza
9. Copy Paste Soul – The Fall (Original Mix) – 2 Swords Records
10. Huxley Feat S-Man – Callin (Original Mix) – Aus Music
11. Dale Middleton – Thorn In My Side (Original Mix) – SexOnWax Recordings
Check Out Previous aLOLa Podcasts:
alola.co.uk/category/alola-podcast/
Artist info:
Omid 16B: alola.co.uk/2013/03/omid16b/
Anton Fielding (Echomen) – alola.co.uk/2013/03/anton-fielding-echomen/