aLOLa Podcast 06_Omid 16B & Arnas D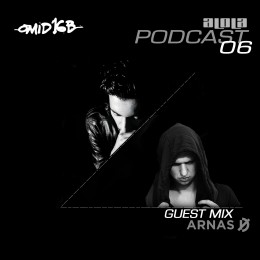 Omid 16B, known for his innovative and timeless creations, will host the two hour aLOLa radio show, presenting inspired tracks from around the globe including new and unreleased material from the aLOLa camp.
We start the first hour with Omid 16B's Promo set for Verboten / Push The Night (New York) prior to his August 15th show joining Eelke Kleijn for his Debut appearance.
If you missed his Verboten Transmissions, heres a chance to catch the set again, showcasing some new material due to be released on Omid's aLOLa, SexOnWax & Disclosure UK labels.
For the second hour Omid's guest mix is no other than rising star Arnas D taking you on a journey, sharing his fine selection touching on various genres, following his recent releases on SexOnWax and the first in the series of the "Reincarnations" Mix albums on SexOnWax out now.
http://www.protonradio.com/show.php?showid=670
https://www.thefuture.fm/mixes/46332/16B/part-1-alola-podcast-6-ft-arnas-d
Tracklist
Part 1: Omid 16B
1. Alex George – The Gap Between [SexOnWax PROMO]
2. Alex Denne & Yas Cepeda – Perdidos [Sanity]
3. Dan Drastic – Beyond The Sea [Tulipa]
4. S.K.A.M – The Dark Side [Gipsy Music]
5. Memory – Freedom [SexOnWax PROMO]
6. Tiga – Bugatti [Turbo Recordings]
7. Matik – Ambar [PROMO]
8. St Savor – Savors Dream [aLOLa PROMO]
9. Alvaro Smart – Touareg [Witty Tunes]
10. Ditian – Lonely Runner [SexOnWax PROMO]
11. Joy Lee – Anal_og (Ef Remix) [Disclosure UK PROMO]
12. Alvaro Smart – NY Nights [Witty Tunes]
Part 2: Arnas D
1. DJ Anna, Beverley Ely – Secret (Raxon Remix) [Toolroom Records]
2. Pablo Bolivar – Last Change (Jay Shepheard Remix) [Defected]
3. Sven Tasnadi – Feel Good (Original Mix) [Moon Harbour Recordings]
4. Rui Da Silva, Penny F. – Love Is The Leader (Chus & Ceballos Stereo Mix) [Kismet Records]
5. AFFKT – Hellraiser (Double Extra Dark Mix) [BLA BLA]
6. Amber Long & Robert Mason – Eggshells (Kastis Torrau & Arnas D Remix) [Stripped Recordings]
7. Alex Niggemann – Tarkus (Original Mix) [Last Night On Earth]
8. Gabriel Ananda – Tale Of The Oblivious Llama (Original Mix) [Click Records]
9. Tube & Berger – Imprint Of Pleasure (Coyu Remix) [Suara]
10. Chopstick, Johnjon – Run Slowly (Andre Lodemann Remix) [Suol]
Check Out Previous aLOLa Podcasts:
alola.co.uk/category/alola-podcast/
Artist info:
Omid 16B: alola.co.uk/2013/03/omid16b/
Arnas D: alola.co.uk/2013/03/arnas-d/