aLOLa Podcast 05_Omid 16B & Hawie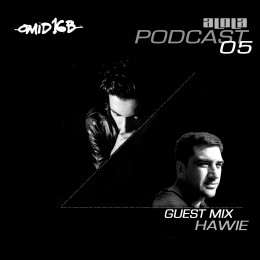 Omid 16B, known for his innovative and timeless creations, will host the two hour aLOLa radio show, presenting inspired tracks from around the globe including new and unreleased material from the aLOLa camp.
This month we start the first hour with Omid 16B's set at the "Habitat" club in Calagary (Canada) he recently played for the stampede week , recorded live with the crowd in the background capturing the energy of the night, this is the last hour of the set and only a few days before Omid heads off to Argentina showcasing lots of the forthcoming releases on aLOLa & SexOnWax.
For the second hour Omid's guest mix Hawie takes you on a journey sharing his fine selection touching on various genres, following his releases on aLOLa recently.
Tracklist
Part 1: Omid 16B
1. Jamie Anderson – Inova (Rob Small remix) – Artform Records
2. Pig & Dan – Slash (Original Mix) – Elevate
3. Jonni Darkko & Soel – Spiritual Energy – Ideal Audio
4. Ten Walls – Gotham – Innervisions
5. Ten walls – Epos – Innervisions
6. Maya Jane Coles – Something In The Air – Hypercolour
7. Omid 16B & Alex George – Spider – Sci + Tec (Promo)
8. Joe T. Vannelli Vs Hot Since 82 – The End feat. Csilla – Moda Black
9. Donna Summer – I feel Love (Omid 16B Edit)
10. Dj Diass & Saccao – Drones In The Air – SexOnWax PROMO
11. LFO – LFO – Warp
12. Omid 16B – Free – aLOLa
Part 2: Hawie
1.Adriatique – Mr. Creasy (Original Mix) [Diynamic]
2. Wankelmut – Wasted So Much Time (Jacob's Deep Instrumental) [Poessie Musik]
3. High Heels Breaker – Come Easy (David August Remix) [Drumpoet Community]
4. Animal Trainer, Jam Blomqvist – Keep Control (Nicone & Sascha Bramer Remix) [Stil Vor Talent]
5. Ole Biege, Martin Wasewsk – Imdimushy (Original Mix) [Monaberry]
6. Henry Saiz – I Can Feel It Coming (Original Mix) [Last Night On Earth]
7. Ross Evans – Part Of The Dream (Original Mix) [Leena Music]
8. Ferdinand Dreyssig, Marvin Hey – Coeur De La Nuit (Wankelmut Remix) [Poesie Musik]
9. Booka Shade – Love Drug feat. Fritz Helder (Animal Trainer Remix) [Blaufield]
10. Los Suruba – Ratapiel (AFFKT Remix) [Sincopat]
11. Adana Twins – Schiwago (Original Mix) [ Exploited]
12. Larry Cadge – Vicious Circle (Orignal Mix) [Smiley Fingers]
Check Out Previous aLOLa Podcasts:
alola.co.uk/category/alola-podcast/
Artist info:
Omid 16B: alola.co.uk/2013/03/omid16b/
Hawie: alola.co.uk/2013/03/hawie/