Review: Omid 16B presents Arnas D – Reincarnations 001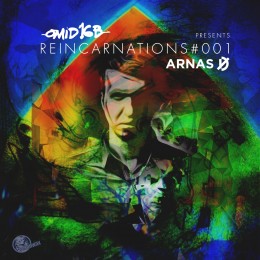 Artist : Arnas D & Omid 16B
Title : Reincarnations 001
Label : SexOnWax
Cat No : SRE001
Release : 4th August 2014
Genre: House, Progressive
Its a good day when a SexOnWax record is fired into your promo inbox and today was one of those days. Omid Nourizadeh's work has been a staple in my mixes since I stumbled across his first Changing Shape EP way back when. From that point on, I've had more than a mild fascination for what musical delights he comes up with and this album compiled and mixed alongside Arnas Dambrauskas is as close to a perfect mix album as I've ever heard.
From the etherial tones and rock guitar of the opening track, Arnas D's edit of Omid's 'The Epic', the listener is invited into a world of soul and emotion which harks back to a simpler time in dance music, when the music was the focus, not the DJs mixing it. Now before you draw comparisons, its a million miles away from the stadium sound of your Sasha and John Digweeds, but equally has the power to command my attention. Nothing about this mix is rushed, in fact the whole mix is little over an hour and weaves a delicate sonic tale with its well thought out and structured track choices. Indeed, each track has been lovingly edited to fit the mix and 95% of the tracks are by Omid or Arnas themselves adding a new dimension to the tried and tested mix album market.
This is very much a close-your-eyes-and-drift-away kinda mix. Everything is perfectly keyed and each track fits snuggly with the last creating a deep, hypnotic vibe. The DJs involved clearly has a shared passion for music, as there never seems to be a moment where you can tell which guy is playing. Thats the whole point of the mix. To move away from the ego driven mix albums of named DJs back towards a more pure sense of music appreciation. And I for one, think thats a wonderful idea.
Tracks
1. Omid 16B – The Epic (Arnas D Intro Remix)
2. Arnas D – I Got You (Omid 16B Remix)
3. Arnas D Feat. Gemma – The Edge (Omid 16B Edit)
4. Alex George – Moth (Omid 16B Edit)
5. Chris Gavin – Random Forest (Original Mix)
6. Dale Middleton – Audit & Purge (Omid 16B & Arnas D Edit)
7. Arnas D – Kingdom (Original Mix)
8. Omid 16B – Lilly & Poppy (Arnas D Remix)
9. Arnas D – Sad Chords (Original MIx)
10. Omid 16B – Escape (Driving To Heaven) (Omid 16B & Arnas D Remix)
11. Omid 16B – Same As You (Omid 16B & Arnas D Remix)
12. Omid 16B – Inbetween Your Choice (Remix)
Taken from http://www.thisisprogressive.com/omid-16b-arnas-d-reincarnations-001/
Upcoming album Review by SIMON HUXTABLE for thisisprogressive.com