Omid 16B Presents aLOLa Vol4 EP Sampler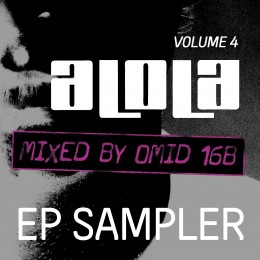 Omid 16B and his aLOLa label are releasing some inspiring and highly collectable music from the vaults. The re-mastered back catalogue has been made available since 2011 to all good digital stores, alongside the label's latest brand new music from today's respected and true artists to show that aLOLa remains one of the most exciting and influential labels in the UK and around the globe.
A process that started two years ago with the first two instalments of aLOLa's past, present and future mix series, this was followed in Summer 2013 by Mr C's "Volume 3" presenting his favourite label selections. Now it is time for Omid 16B to finish a fantastic year off in style with this stunning selections mixed to perfection for "Volume 4".
"I wanted to create a journey with the music and see how significant the catalogue is becoming, could the mix tell a timeless story?
I had to create new tracks for different moods when I started the mix, specially when I had to a bridge a gap between different emotions so they could naturally follow in a sequence I was ultimately happy with.
This way I felt the mix turned into a positive challenge with more personality , combining a few forgotten back catalogue classics with unreleased material by the aLOLa artists." Omid 16B
Tracklist
1. Omid 16B – Ending To Begin (Original Mix)
2. Alex George – The Illness (Spin Science Remix)
3. Feroziana – Acid Wars (Omid 16B Remix)
4. Pop Out & Play – Corrosive Tongue – (Omid 16B Re-edit)
Listen To Preview
BUY ON BEATPORT
http://www.beatport.com/release/omid-16b-presents-alola-vol4-ep-sampler/1201110