Omid 16B Presents Alola Vol 4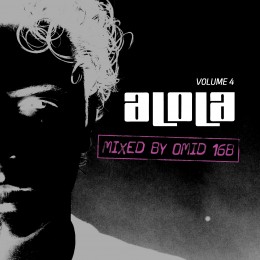 To celebrate a landmark 20 years in the music business, Omid 16B and his aLOLa label are releasing some inspiring and highly collectable music from the vaults. The re-mastered back catalogue has been made available since 2011 to all good digital stores, alongside the label's latest brand new music from today's respected and true artists, to show that aLOLa remains one of the most exciting and influential labels in the UK and around the globe.
A process that started two years ago with the first two instalments of aLOLa's past, present and future mix series was followed in Summer 2013 by Mr C's "Volume 3" presenting his favourite label selections. Now it is time for Omid 16B to finish a fantastic year off in style with this stunning selections mixed to perfection for "Volume 4".
"I wanted to create a journey with the music and see how significant the catalogue is becoming – could the mix tell a timeless story? I had to create new tracks for different moods when I started the mix, especially when I had to a bridge a gap between different emotions so they could naturally follow in a sequence I was ultimately happy with. This way I felt the mix turned into a positive challenge with more personality, combining a few forgotten back catalogue classics with unreleased material by the aLOLa artists." – Omid 16B
The mix opens with a brand new track from Chicago's Nick Stoynoff, the mellow, spacious, deep house vibes hinting at what is to come. Omid lifts the atmosphere beautifully with his own re-edit of Pop Out & Play's "Corrosive Tongue", before the rather tasty exclusive remix of Alex George's stupendous "The Illness" from Estonia's rising star, Spin Science takes over, channelling the vibes of early Chicago House firmly into a futuristic style.
As the mix flows and develops masterfully, Omid introduces the funked-up magnificent of Australia's Eliot Tordoff, his own edit of the superbly titled and twisted "Dancing With Elephants", and his own remix of the ferocious "Acid Wars" by mysterious newcomer Feroziana, whose "The Final Touch" on Bedrock has been a highlight in the Beatport Techno sales chart recently. The energy levels are starting to sizzle as "Hamsters Goosebumps" ushers in the first of a series of stunning productions by the master himself. The ethereal beauty of "Double You" is beyond compare whilst the clever guitar riff hook of "Dark Horse" is so distinctive that it immediately renders the track unforgettable.
The sultry female vocals of Voodoo Corporation's "Inside Your Love" lift excitement levels even higher in a classic house style, before a new interpretation of the stone-cold classic, "Escape (Driving To Heaven)", brings the mix to another section of exclusive new productions by Omid 16B. Acidic attitude, euphoric beauty and perfectly timed drops with lashings of atmosphere are the order of the day, as the mix becomes ever more enthralling, with Omid's "Ending To Begin" into Spin Science & K Loveski (making their second appearance), before the mix is subtly brought down slowly to a joyous climax with the genius deep house vibes of "How To Love" and then closed with a cheeky riff from his classic "Water Ride".
The phrase "master at work" is entirely appropriate here for Omid 16B as he has created a timeless, classic mix using purely tracks from his own aLOLa label. "Volume 4" is the perfect addition to the series of mix compilations, combining forgotten back catalogue classics with unreleased material by aLOLa artists, and another amazing glimpse into the label's historic brilliance.
"Alola is one of THE labels for me… such a consistently high quality of music and a great roster of artists. I still have them all on vinyl!!" – Danny Howells
"Alola has been one the finest house music labels coming from the United Kingdom in the past decade. High quality underground music on every release." – Hernan Cattaneo
Buy Omid 16B Presents – Alola Vol 4:
http://www.beatport.com/release/Omid+16B+Presents+aLOLa+Vol4/1210253
BUY aLOLa Vol 4 Sampler: http://www.beatport.com/release/omid-16b-presents-alola-vol4-ep-sampler/1201110
Order Promo CD: http://alola.co.uk/category/order-alola-vol-4-cd/
Listen to short Previews on SoundCloud