Omid 16B – On & Off EP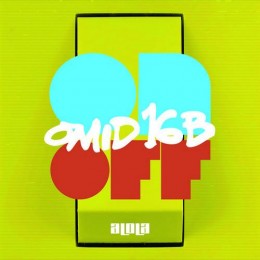 The "On & Off EP" by Omid 16B is the next installment in a series of releases and parties from the master DJ/producer during the summer of 2013 to celebrate the 20th anniversary of his highly respected Alola record label. Omid is an artist who isn't just a DJ/producer, but also a songwriter and musician, who has played a range of musical instruments from an early age and has spent most of his life involved in music. He has been immersed in music as a life force for so long, that his whole ethos for creating music often seems to be otherworldly, exploring the realms of unfathomable alchemy. "On The Outside" is yet another gloriously creative example of his intricately woven house music, created with love and patience, that embodies everything that is exciting and supremely danceable about pure, timeless electronic genius.
Constantly evolving and growing, with a groove to die for, this is music that will still make perfect sense many years from now. Talking of pure creativity, the 16m16s of "On & Off" is a space within the universe where all distractions melt away, as layer upon layer of melodic musical experimentation are fused onto a hypnotic minimalistic groove that defies mere simplistic generic classification. This is something that Omid 16B does so well – that laid-back aesthetic – perfect ammunition for summer terraces and sun-soaked parties worldwide, yet equally suited to being an utterly enthralling headphone listening experience at home. As a respected artist of high calibre for many years, Omid 16B has released several notable albums to critical acclaim and released an astonishing number of amazing singles and remixes over the years.
"The On & Off EP" is another example of his highly distinctive style and unique expression that constantly inspires and evolves. As head of the Alola, Disclosure and SexOnWax labels, Omid is, quite rightly, seen as a key tastemaker across the electronic music scene. To get the bigger picture, you can listen to this intimate hour with Omid on the decks, featuring some new cuts coming up soon on Alola: https://soundcloud.com/sexonwax/omid-16b-alola-promo-mix-june Omid is currently putting the finishing touches to a new 16B album that will emerge later this year. This will be preceded by his mix compilation in the "Sounds Like Alola" series, giving people a glimpse into the label's historic brilliance.
Dixon – Love the tune! Maya Jane Coles (Dogmatik / Real Tone) On & Off is very nice! Thank you Tensnake the mood of on the outside reminds me of my favourite album 10 years ago (how to live a hundred years) on &off is almost an atmospheric techno trip, thank you, downloading for Tensnake Kenny Glasgow (Art Department) wow this sound like some of the shit on my solo album nice one gents Laurent Garnier fantastic both tracks thanks a million … Florian Meindl – On & Off is outstanding! nice mood! DJ Gee (Bora Bora, Brazil) – I'm a big fan of Omid 16B…This ep not letting me down at all, looking forward to airing "On the outside" especially. Playing "Double you" in some sets still also:G) Affie Yusuf (Superfreq / We Love Acid) On & Off deep tech that stays on the right side of wrong 😉 hell yeas. Hernan Cattaneo – loving on & off Oniris – Great sound on the outside club mix!! Luke Fair – On The Outside is great! Will play lots. Kassey Voorn – "On the outside" is great! Anderson Noise – downloading and support! Sasha support all the way Digweed this is in the bag for sure both mixes useful Tim Hopgood (Ethyl (Secret Sundaze/Tsuba) On & Off is nice and to the point. I like it.